Tuscany
In the general panorama of the Italian regions, Tuscany can well claim a position of prestige,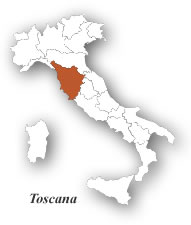 not only for its advantageous geographical location in the very center of the entire Mediterranean basin, but even more so for the historical, artistic and cultural heritage which has marked its evolution throughout the centuries.
From the remote era of Etruscan civilization, which gave the region its name, to the splendors of the Renaissance and later periods, Tuscany has played a consistent and determining role in the modelling of Western Civilization.
On the map Tuscany appears as a triangle with the Tyrrhenian coast as its base, the Appenine mountains forming one side bordering on the neighboring Emilia-Romagna region and the Umbria foothills and the Lazio plain completing the third.
Winter in Tuscany is reasonably mild; the summer long and dry. These two climatic factors enhance the region's tourist vocation for both foreign and domestic visitors. Add to this the typical olive-green, silver-gray colours of the Tuscan countryside and the result is a natural paradise of unequalled beauty.
Where we are
Our Houses are all located in the province of Pisa, not far from the border with the province of Livorno.
Il mulino delle Fontanacce
Borough of "Montecatini Val di Cecina" (Pisa), few km from the ancient village "La Sassa".
Apartment located in borough of "Castellina Marittima" (Pisa)
Apartment located in Canneto (Pisa), borough of "Monteverdi Marittimo".
Apartment located close to Montecatini val di Cecina (Pisa)".
Apartment located close to Montecatini val di Cecina (Pisa)".
How to reach our locations
Our houses are easily reacheable being not far from the sea and then from the major roads connecting Tuscany. For details about the road please check the map.
If you need more detailed informations please contact us by mail or by fax/phone .